The Jerrys Farm is your source for produce and high-quality, hormone-free, pasture-raised beef, chicken & pork.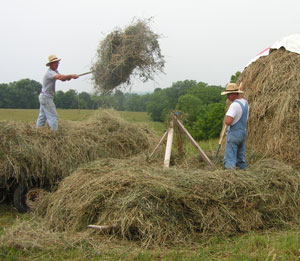 Begun in 2004 by Jerry Hicks and Jerry Neff, the Jerrys Farm has grown each year in supplying individuals with nurishing food a trusted local supplier.
Both Jerry Hicks and Jerry Neff grew up in rural areas and have always had an interest in agriculture. When the idea of farming was first discussed it was decided that it would be done in an environmentally friendly way and should be both profitable and enjoyable. The use of draft animals instead of heavy machinery made sense and really seems to match the scale of the farming operation. The "salad bar" approach to raising cattle and following them with poultry has shown itself to be very good for the animals as well as the land.
It took nearly three years of searching the back roads of Kentucky and West Virginia before we found our place on Three Mile Creek, just a mile from the Licking River. The farm had the perfect blend of tillable acreage, wooded areas, good grazing, streams, springs, and ponds. With the continued improvement of facilities, soils, and bloodlines, we hope to offer products which will be enjoyed as much by your families as by ours.